Magaluf – the new Calvià Beach 
Magaluf is a resort town in the southwest corner of Mallorca. It's famous for its nightlife and beaches.  However, in recent years, Magaluf has begun a rebranding, and many people refer to it as Calvià Beach  Resort. Many run-down bars have already been closed as part of the Calvià Beach reinvention.  There are new rules in place to help prevent drunken activities such as happy hours, 2-for 1 drinks, pub crawls, and party boats. New laws also prohibit shops from selling any alcohol between  9.30 p.m. and 8 a.m. That is, Magaluf has begun to evolve from its reputation as an 18-30 resort.
Outside of its boozy pastime, Calvià resort has a lot to offer and is now becoming a place of renovation and reinvention, with plans to increase four and five-star hotels in the area. Today more than 60% of the hotels in this area are now four-star or higher. The nearby town of Palmanova has plenty to offer all year, and with the extended season in Mallorca, Calvià Beach Resort may soon be transformed even further, offering more classy spots like La Vista, Zhero Boathouse, and Nikki Beach.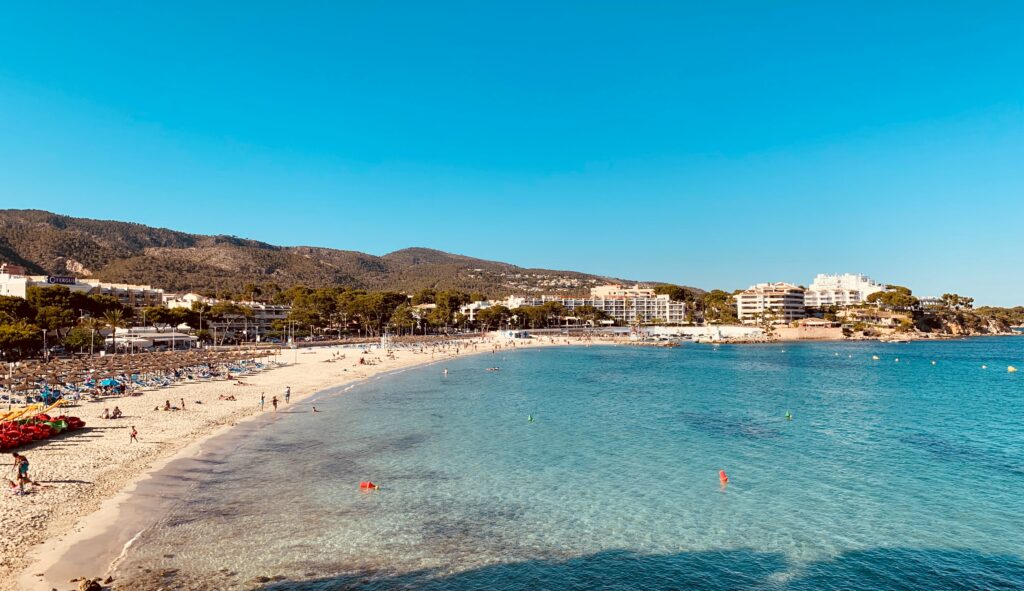 Purchasing properties in Magaluf – Calvià Beach 
With the renovations around this area, there are many types of properties on offer and prices may vary in the different locations.
The property in Magaluf is not all connected to the main strip so some property locations can be quieter than others. Despite being a busy holiday destination in peak season, some of Magaluf – Calvià Beach restaurants remain open all year round and the neighbouring town of Palmanova is very active both in and out of season, meaning this area is becoming popular for property purchases. 
Properties in this area are becoming more popular and here at Mallorca Agency, we think this location will become a great place to invest in property.
Sports in Magaluf
Magaluf is a top destination for sports lovers, from paddle courts, and football to windsurfing and kitesurfing. There are also plenty of opportunities for hiking, cycling, and rock climbing. Magaluf has one of the nicest beaches in the South West of Mallorca and is home to Wave House, one of the best places to brush up on your surfing skills.

With so many different sports on offer, there is something to suit everyone. From beginner to expert, there are activities to challenge and exhilarate all levels and with the wonderful weather, you can enjoy the outdoors all year round.
Karting Magaluf is located on the outskirts of Magaluf close to Sa Porassa, founded in 1983 they offer a host of activities from ages as young as 2. Children and adults can enjoy the F1 experience from 10-90 km /h.
Magaluf in Summer
Magaluf is a popular summer destination for tourists from all over Europe. The town comes to life with parties and events, and the beaches are swarming with sunbathers. Magaluf is the place to be if you want to let your hair down and have some fun. Tito's Calvia Beach by BCM has a slew of DJs spinning all season keeping you partying late into the night.
During the day, you can unwind at one of the many beach clubs, such as Oceans, Nikki Beach, or Folies Beach Club. During the summer, Magaluf is a hive of activity, with something going on in every neighbourhood.
Momentum Plaza is home to numerous bars, including Rooftop 9, restaurants, coffee shops such as Starbucks, and fashion outlets.
Near by
In the summer, Magaluf has plenty to offer, but in the winter, the nearby town of Palmanova has more to offer. Restaurants and hotels are typically open throughout the year. The walk from Magaluf to Palmanova takes about 32 minutes. However, bus routes and taxi ranks are located throughout the towns, making transportation convenient.